Blackpool lies on the north west coast of England. A 1h10m ride from Manchester. The city is known as a tourist resort in the summer when brits from all over the country travel there to get some sunny time. End of April isn't exactly summer time but the weather was still surprisingly nice the two first days of the trip.
Anyhow, I was in Blackpool to show our game for the first time ever to the public. I was a bit nervous of how it would be received, mainly because I had never played the game with working goalkeepers before. As it turned out the goalkeepers did their job pretty well. They're still not 100% ready but I think people already at this level appreciated how things were looking.
Our tagline "Sport has never been so much fun" is what this game is all about. It's what we are aiming for. Compared to PES and FIFA, which I see as more or less detailed simulation of football, our game aims to be an arcade game that captures all the beautiful moments in football with a wink.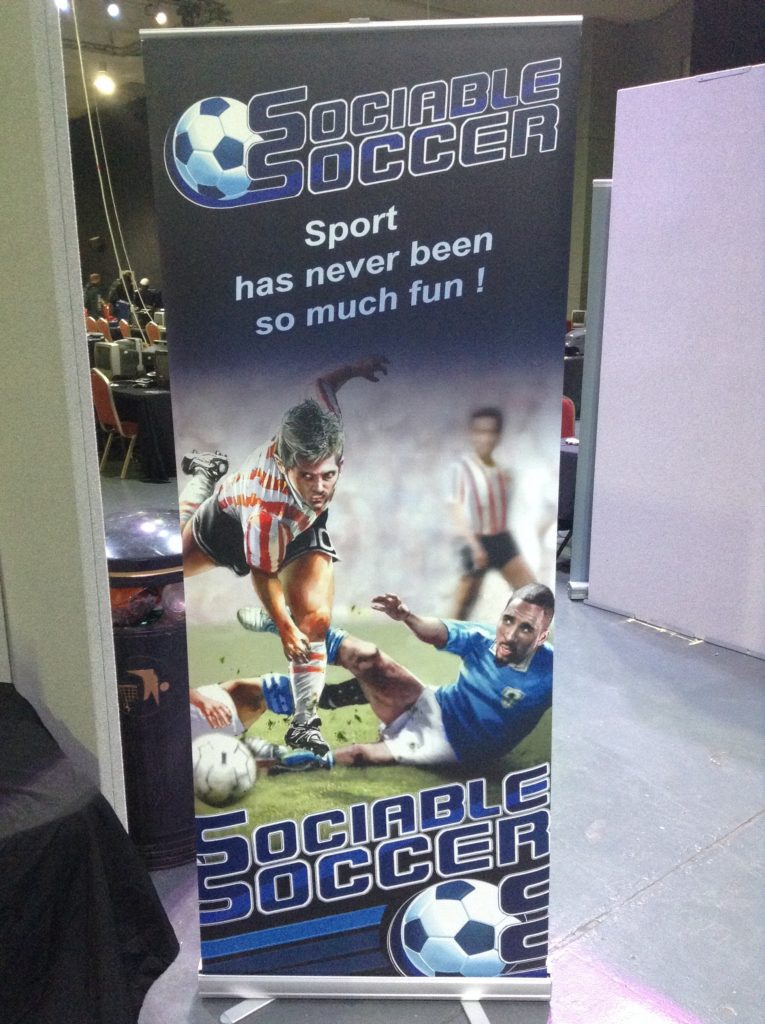 The first day of the event was mainly introducing players to the game. People got it pretty quickly but there was some trouble in understanding how to select 2 players on the select teams screen. You have to mark the team, press the button to select that team, and then player two select his team and presses the button. Then you go down to the 2p option and press the button to start. In FIFA/PES you just have to select the team and then it forces you to wait for the 2nd player to select his team and then you're both confirmed to start with another press on the button. Anyhow this is just a detail, and there was a bug when side scrolling with L1 and R1 to other team screens also. These will be fixed, or may have been already.
Then it was time to play the game. You feel it pretty quickly, the ball control, the passing, tackling, it's the same as before. Shooting is a bit changed because of the 360 degrees, and so is movement. Actually this part should not be described by me, rather by someone who has played the game and can give a more neutral comment on it. Here comes a few.
"I had an absolute blast playing this with a mate and also being in the tournament Sunday. Game is excellent. It just feels 'right' in a similar way to how Sensi/SWOS do. Only minor drawback was the odd glitchy goal, but for a game that's not out for 6+ months that can be forgiven. Oh yeah, and Jon was as friendly, charming and entertaining as ever. :-D"
-OutOfMidian
"Had a go at the Blackpool play expo yesterday. Not into soccer games as a rule but me and the lad had a great time playing this (I think it was his favourite part of the day). Had a real old school feel to me"
-Paul French
"The game is incredible. Takes me back to my Amiga days. It was only 50% done too."
-John Oneill
So this was some of the reactions to the gameplay, and also one visitor made a video preview. Check this out 1:29!
After games I also asked people if they wanted to take our survey about the game. It has 6 questions in it and is very fast and you have the chance of winning a price. The price will be that you get to be a player in the game. So if you get the chance to be part of a survey in the future. TAKE IT!
After the event had shut down on Saturday we played a few more games between the crew and I even got a new update late at night for the game from our lead programmer to fix some of the swearing on splash screens and some more tweaks in gameplay. Really cool to be able to have an update coming through like that over night. Would be impossible at for example Gamescom where everything has to be verified weeks before it goes on display.
Sunday was Tournament Day, and also Jon arrived at 3:30 to have a speech about his career in game development. Very appreciated, and after that we asked everyone to join us for the final 16. We had some problem with the organization at that point and the call for contestants in the big hall didn't reach out at the right time. 16 players joined though and two even missed out which I really regret informing them about.
After a draw which included pen, paper and scissor we had a playoff. Classic. The tournament started. We have yet to introduce extra time and penalties and a few games went to a 2nd game. What's great about Sociable Soccer and Jon's other games is that they are only 3 min long. You really have to perform from the start, and it's over quick if you don't concentrate. Two contestants were really at top of their game and made the final, Darren Browne and Pete Sutcliffe. Darren who I had been talking to before (great lad) then won that final 2-0 and became the first player ever to win an official tournament in Sociable Soccer. Big congratulations! Congratulate him and ask him about the game on Twitter @kingmonkey25.
Thanks to all participants.
Our next stop will be Malmö between the 18th and 20th of May.